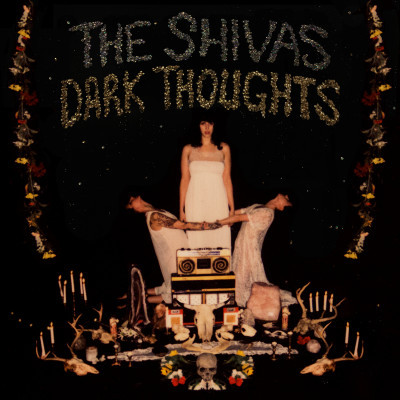 Download image
Release Date 10/25/2019
(Tender Loving Empire)
NACC, SubModern
For The Shivas, the show has always been the thing. That thing being a bombastic, explosive and thoroughly communal live rock and roll experience where barriers between the performers and their audiences seem to dissolve into the sweat and sound. The stage—or the basement, or the living room—isn't just the Portland band's element, it's their raison d'etre. It's their religion.
That live urgency may have been born in 2006, when the band's young members—who began booking West Coast tours while still in high school—had to wait patiently on sidewalks or in parking lots before being ushered onstage for their brief opening sets at 21-and-up clubs. Maybe it developed a little later, as The Shivas blasted their way through Portland's storied and unsanctioned mid-aughts house show scene. And it may have intensified in TK, when guitarist/ songwriter Jared Molyneux and drummer/songwriter Kristin Leonard got married. Whatever the origin of their famously kinetic live experience, it's the show that keeps them coming back after TK performances spread over TK countries in TK years.
In that time, The Shivas have grown tight-knit as a group (Bassist Eric Shanafelt has been with the band since its formation; guitarist Jeff Boyardee joined in 2018) learned to thread a seemingly impossible needle: They have honed and tightened their performances without sacrificing the element of surprise that makes each show special. But the aim of their shows, founding member Molyneux says, hasn't changed. "We just want to make people feel good," he says. "We want them to forget they have to work tomorrow." Kristin Leonard, who joined the band a decade ago at 18 years old, elaborates. "The live show is all about facilitating catharsis —in ourselves and in everyone who comes to a show. We're creating this safe space where we can all let go. Where we can exhale. And it feels really good to have that power."
This obsession with the live experience can make recording albums a daunting prospect for The Shivas. Where some bands make their records piecemeal, then figure out how to perform them in concert, The Shivas take the opposite approach. They track the bulk of their recordings live, together in-studio (a trick they learned from producer Colin Hegna while recording their 2012 K Records LP Whiteout!), trying to replicate the live experience as best they can before adding any studio-enabled magic tricks. And while the band's discography is loaded with gems that blend punk energy and psychedelic/ garage rock production techniques—The Shivas' sonic baby pictures put a lot of full-grown bands' early recordings to shame—they insist that it's hard to find the catharsis of a live concert in a recording studio. What has historically intimidated them, Molyneux says, is that where a live show is all potential, a finished album represents the end of possibility. "It's like seeing yourself in the morning after you've been drinking all night," he says. "It's coming face-to-face with a blunt version of yourself. And sometimes it works. But sometimes you've got to start over."
And sometimes you've got to start over... again. It took three full recording sessions to finish The Shivas' ambitious and mature new LP, Dark Thoughts (the band's first release for the Tender Loving Empire label). The first two tries were recorded on what, in retrospect, the band understands were unrealistic studio timelines that brought out their most self-critical tendencies. Entering the studio for a third session was daunting, to say the least, but The Shivas gave themselves an open-ended recording schedule and leaned in to their own intra-band support network. They faced their insecurities and demons: One of the many reasons the album is called Dark Thoughts. The third time turned out to be a charm. "We took our time: We probably
spent over 50 days in the studio. We did overdubs, tried different stuff, tried different ways of mixing the album for a long time."
This time out they worked with Portland producer Cameron Spies (Radiation City, Night Heron), who alternated between roles of encouraging mentor, big brother, therapist and coach. It helped them stop worrying over the finite nature of an album, Anderson says. "Now I try to think of an album as this cool little snapshot in time. It's never going to be perfect, and it really forces you to face your demons. It's like therapy, where all of a sudden you can't avoid them anymore. You put it all on the table."
Putting it all on the Table, confronting your demons, the growth that comes from fearless self- examination—those are the themes that resound throughout Dark Thoughts. It is a sweet and sinister album, and it can be hard to tell where the light ends and the darkness begins. Opener "Gloria" is a parable about the elusiveness of success wrapped in sultry, dirgey blues-rock— majestic and sleazy at the same time. "Playing on the Radio" is a meta side-eye of the same subject matter, tearing down the sugary pop song from within a sugary pop song. And the album's most revealing track, "If You See Me"—a pensive, tender doo-wop-adjacent number influenced by Fats Domino—finds Anderson crooning sweetly about depression, psychic scars and sexual harassment.
Dark Thoughts is the sound of a tight-knit band whose members have learned not just how to trust each other, but how to grow together. They've traveled the world, meeting new fans and friends from Beirut to Mexico City. It has expanded both their world view and their conception of the role they play as musicians. "Being adults now," Anderson says. "We're starting to talk a lot more philosophically about why we do what we do. Some of my favorite music came from people needing to find a space—like blues music that could be very taboo; people needed to find a space for that release. Music is just such a visceral place to find a release."
That's what The Shivas are here for: to help people get free, even just for an hour.
If they drop a few great albums along the way, so be it.